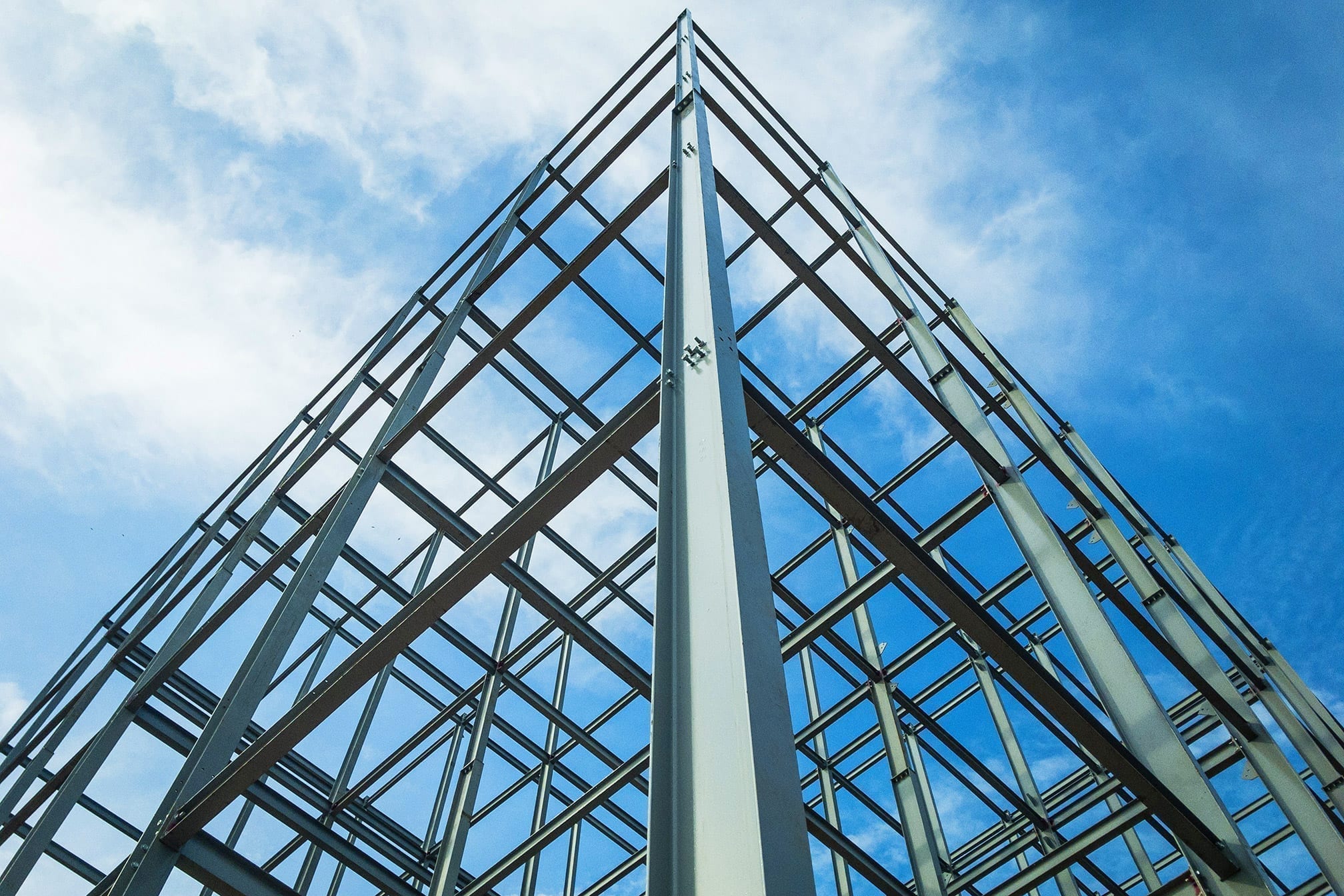 Materials + Erect vs Labor Only – How Do You Know Which Is Right for Your Project?
Entering into a partnership with a pre-engineered metal building (PEMB) erector for the steel assembly portion of a 25K+ square foot project can help a general commercial contractor expand into the division 13 market, without the risks associated with big overhead. Rather than having a team in-house for one or two projects every five years, outsourcing the erector portion of the job to an industry veteran can keep internal operation costs low, while simultaneously providing access to the skills and expertise that come with working alongside best-in-class PEMB professionals.
There are a couple of options available when resourcing a steel erector – materials + erect or labor only. But how do you know which is right for you? Read on to find out.
Labor Only
What It Is and When It's the Right Choice

One of the ways of outsourcing the steel building erection portion of a large-scale assembly is through a "labor only" agreement. This arrangement works exactly as it sounds. Your PEMB erector supplies the labor and equipment needed to get the project assembled, and that is it. As the contractor, you would be responsible for all design prep, materials sourcing and ordering, budgeting, timelines, and jobsite management; while your partner supplies the workforce to get the job done.
This option works well when you have a solid in-house team that is accustomed to dealing with large-scale PEMB design evaluation and implementation. It also works if you have team members with experience working on expedited timelines – as more often than not, the companies sourcing these projects expect their buildings to be erected quickly to meet production and seasonal use requirements.
NOTE: A quality labor only partner will want to be a part of the design evaluation as early in the value engineering process as possible. Communication and transparency are critical to the success of this type of partnership.
Materials + Erect
What It Is and When It's the Right Choice

Another method of contracting out the erection of a large metal building is called "materials + erect."  In this arrangement, the general contractor utilizes the full spectrum of a contracted partner's expertise to help evaluate, value engineer, and improve where necessary the building's design; while also collaborating on budgets, timelines, and onsite job management. This is an arrangement that is helpful to contractors who are managing multiple projects, or are used to working on smaller-scale projects and need to tap into the expertise of more seasoned large-scale building professionals.
In a Materials + Erect Relationship, the Partner Contractor is Responsible For:
Evaluating Plan Design and Specifications – This aspect of job management is crucial to meeting deadlines and budget markers throughout the entirety of the job. A high-quality materials + erect partner, will identify and correct any potential design issues before onsite construction begins. This helps the job stay within budget and within the stated timelines.
Sourcing and Ordering All Materials – For large scale projects of 25k square feet and greater, budgets are made and broken in the details. Working with an experienced team can help a contractor avoid costly materials mistakes including under/over ordering, under/over budgeting and ordering inaccurate or low-quality materials. A seasoned PEMB partner will provide a materials strategy that accounts for every bolt, and every hour of rented equipment, while also insuring that the materials are of lasting quality appropriate to the project's scale and requirements. In addition, a PEMB partner with years in the industry has relationships established with vendors nationwide and understands regional price fluctuations, making them able to secure the best deals.
Onsite Job Management – Budgets, timelines, implementation quality, and safety all hinge upon experienced jobsite management. A materials + erect partner is responsible for day-to-day operations, jobsite safety, and equipment/materials management. With many large projects needing to be completed on accelerated schedules, it's important to select a partner that is well versed in sub-contractor management and oversight, as well as jobsite safety strategies that work in tandem with jobsite efficiency.
Fleming Steel Erectors Partner with General Contractors When and How They Need Assistance
Fleming Steel Erectors are PEMB partners that will work with you in the capacity you require. Whether you are looking for materials + erect or labor only, we have decades of experience and can help you meet your obligations to the degree in which you specify. We have ongoing steel erector partnerships with general contractors throughout Oklahoma and beyond that are built on trust, expertise and quality workmanship developed over decades in the division 13 industry.
Find Out How FSE Can Help You Enter New Markets with Our Erector Services Customized to Fit You Needs:
Services