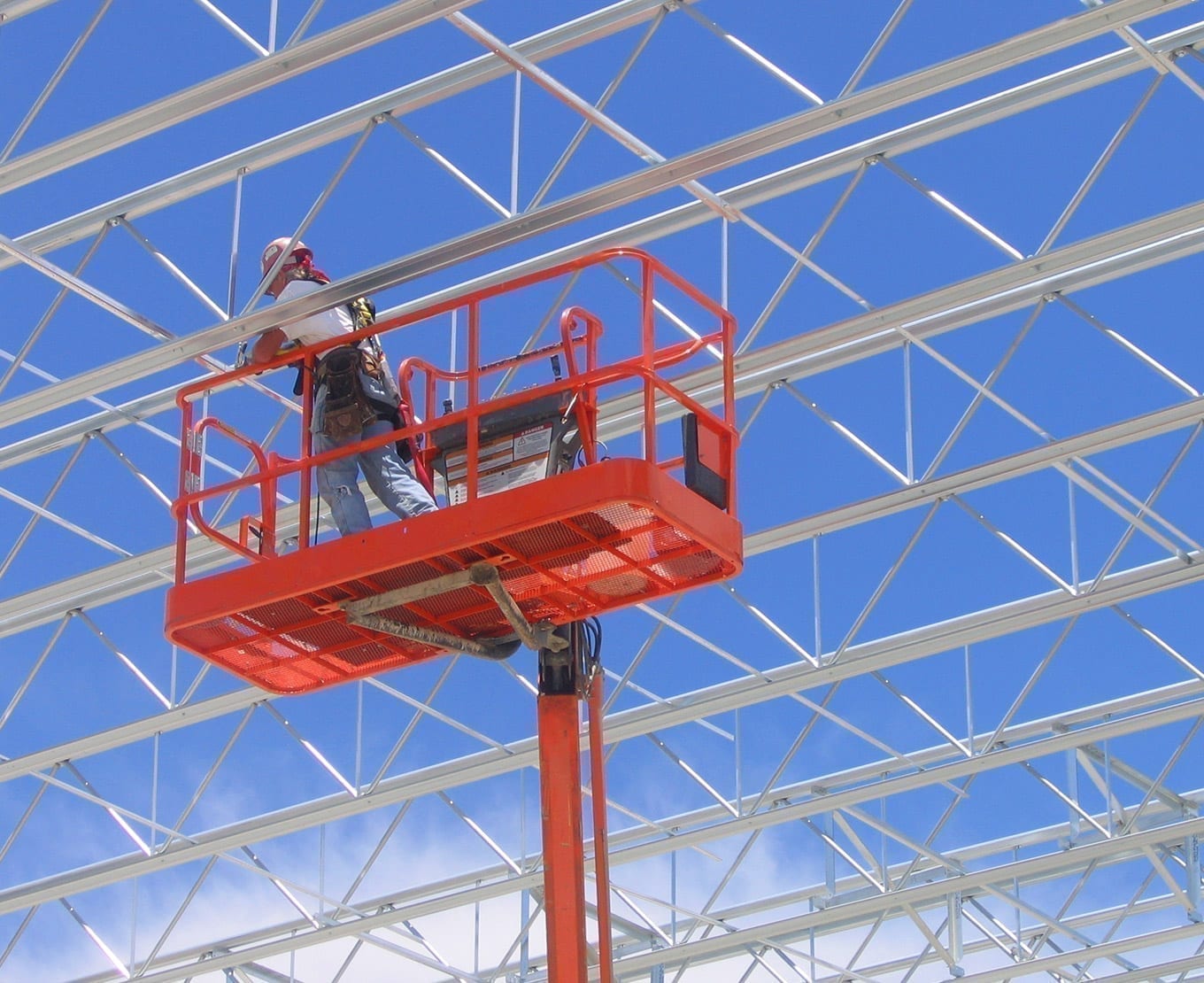 Jobsite Safety
How Can We Avoid Slips, Trips and Falls in the Construction Industry?
According to the  Occupational Safety and Health Administration (OSHA), 21.1%, or roughly one out of five workplace fatalities occur on construction sites, with falls being the number one cause of death. As a leading assembler of pre-engineered metal buildings, Fleming Steel Erectors is committed to jobsite safety and doing everything we can to protect our team from accidental injury. Jobsite safety is a part of everything we do and it starts from the moment we come on board as a construction partner.
Comprehensive Jobsite Safety Starts with Job Specific Safety Plans
One of the most important aspects of jobsite safety is effective communication. FSE has made a name for itself by paying careful attention to detail throughout every step of the construction process. We believe that planning and communication, which begins for us before a single shipment of steel is unloaded, makes for a project that is run efficiently, and therefore safely. Our years of experience has taught us that a one-size-fits-all approach does not work for projects of this scale, and therefore we carefully design our process around the specifics of each job we take on.
Our site-specific safety plans account for the unique aspects of each project's execution, and this strategic planning creates a work environment where forethought is encouraged and there is a specific goal in mind each and every time we mobilize our crews. Making last-minute changes to schedules, machinery deployments, and material types often causes confusion and leads to a workplace atmosphere that feels rushed and stressful. These are the types of conditions where accidents can happen more easily. Planning and communication is not just one of the ways we save our clients' money, it is also a big part of our safety protocol. Our motto? "An organized and efficient jobsite is a safe jobsite."
Sky-Web Fall Protection
In order to protect our workers from leading edge falls, we rely on Butler's Sky-Web Fall Protection systems. Sky-Web is an open polyester scrim mesh that spans the entirety of a building's structure before the roof is installed. The system protects workers from distance falls in a passive manner that does not require individual harness and tie-offs, which can be susceptible to operator error. The mesh remains installed after the job is complete, serving as long-term insulation support.

Overall Site Organization and Machinery Upkeep
Accidents don't just happen on the edges of buildings, and we are committed to creating a safe work space in every aspect. This includes having a well-organized jobsite with well-marked and properly graded roads leading into, out of and around the site. We also have designated, clearly marked material loading and unloading zones and storage areas.
We take exemplary care of our tools and machinery to ensure they are functioning properly and safely at all times, and we adhere to all safety regulations related to working around overhead loads, hoisting and rigging.
Our cranes and hoisting machinery undergo thorough pre-shift inspections, where we evaluate the control and drive mechanisms, assure all safety mechanisms are functioning properly and ensure machinery is operating at a level position. If our inspectors find an issue with a piece of equipment it is immediately pulled from service and repaired before being put back into use.

Zero Harm Behavior Based Safety Credo
Fleming Steel Erectors is dedicated to providing value to our customers, and that starts with creating a safe environment for our team. We are continually updating our safety standards to comply with changes to OSHA regulations, and we regularly host safety meetings to make sure that each and every team member understands how to protect themselves and others from jobsite injuries.
We Have Safely Assembled 70 Million+ Square Feet of PEMB.
Get More Info About Our Safety Credo Here:
Safety