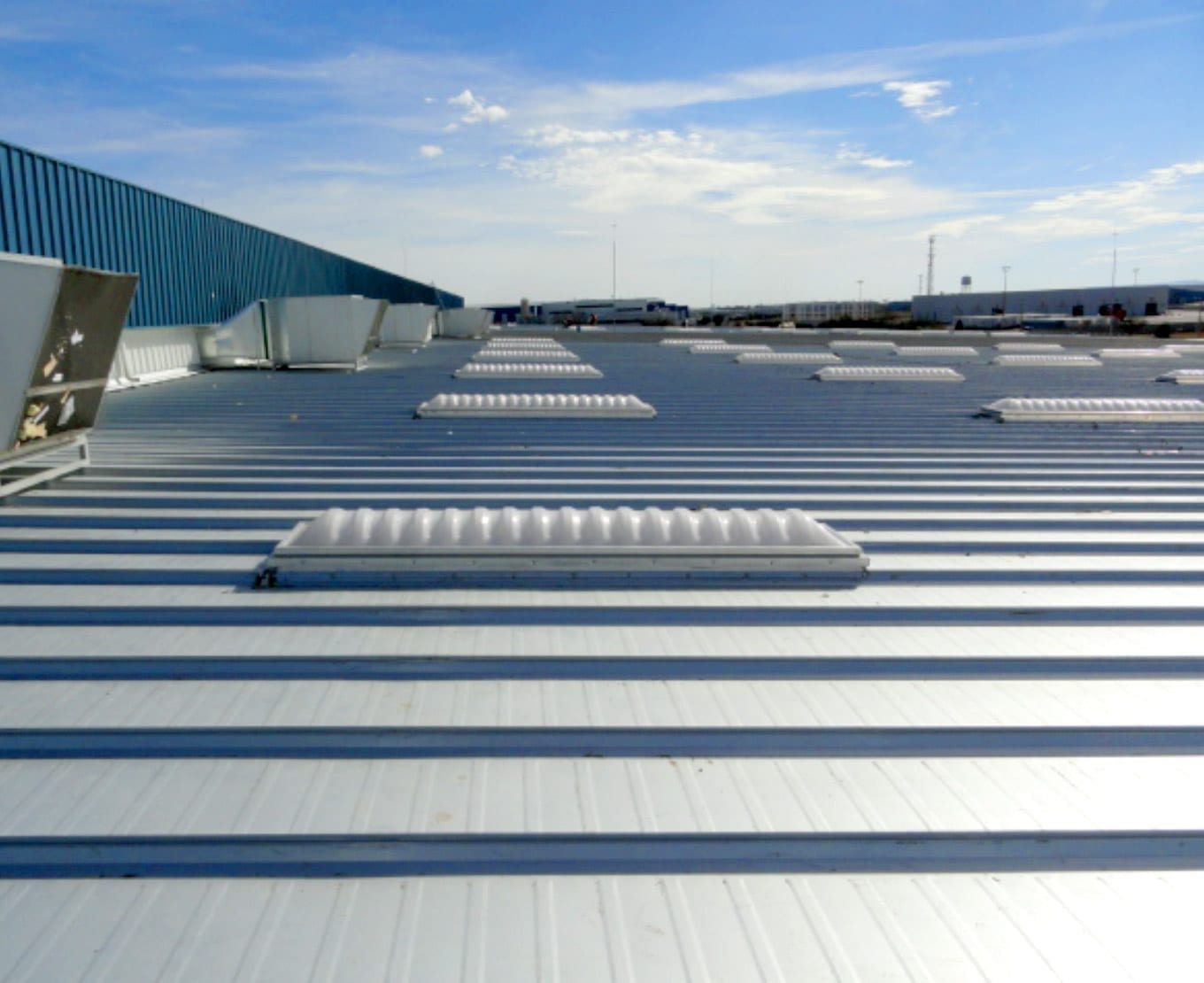 Product Spotlight: Butler Manufacturing MR-24 Roofing Systems
Butler MR-24 – The Most Advanced Commercial Roof System on the Market
While the concept of metal roofing has been around for centuries, no manufacturing company has perfected it like Butler Manufacturing, and few erectors have more experience with their proprietary system than Fleming.
In this article, we'll examine the Butler MR-24 roofing system and explore what makes it so superior compared to conventional and other standing seam roofing options. We'll discuss the relationship between Fleming and Butler – a relationship that goes all the way back to 1965, and we'll take a look at the ways this roofing system contributes to building asset protection and the lowering of total cost of ownership (TCO).
Let's Get Technical – What Makes the MR-24 System so Special?
Back in the 1960's Butler wanted to enter the construction market for low-rise commercial and industrial buildings like warehouses, distribution centers, manufacturing facilities, etc. As a quality-first, innovation-driven company, Butler's intent was to provide a metal roofing system that was superior to the existing options available for low slope buildings. Compared to the agricultural metal building market, commercial and industrial buildings require more sophisticated roof systems to protect the valuable, water-sensitive assets inside the facility. Therefore, the two biggest hurdles they needed to overcome were leaks and longevity. To do this, they needed to address the primary culprits 1. the inevitable and natural expansion and contraction of roofing materials due to fluctuating temperatures, and 2. installation errors.
Addressing Roofing Failures
Culprit #1 – Combating Materials Expansion and Contraction Due to Temperature Fluctuations Using Proprietary Double-Lock Seaming
Materials of all types expand and contract in the heat and cold, and metal is no exception. Conventional "screw-down" metal roofing installation requires that the roof sheeting be attached to the purlins and to neighboring sheets using screws. This attachment pins the steel roof membrane to the structure, making it vulnerable to slotting out over time as the roof system expands and contracts. This dramatically reduces the useful life of the system.
To avoid this, Butler revolutionized metal roofing by creating a floating system, featuring a game changing standing seam design. The Butler roof is attached to the structure with a patented clip. The roof installer fastens the clip onto the structure at factory-punched hole locations. This allows for the unencumbered expansion and contraction of the roof membrane, while dramatically reducing the opportunity for the system integrity to become compromised due to installation errors such as the misalignment of panels.
Often imitated over the past 50+ years, most non-Butler standing seam roof manufacturers cut corners and pre-form portions of their seam in the factory. These panels are then crimped to one another during installation. This method often results in a loose connection between panels and an area vulnerable to leaks and early system failure.
Butler, on the other hand, utilizes the proprietary Pittsburgh double-lock seaming method, which creates an incomparable weathertight surface. Roof installers complete the entire 180 degrees of seam-roll forming at the point of installation, using a special portable seaming machine. This method results in a true Monolithic Roof (the MR in MR-24).
Culprit #2 – Subverting Installation Errors with a Pre-Punched Seam Attachment

In order to be sure that a roof is watertight, there can be no room for error on the installation side. Panel alignment is critical, and if the roof is at all crooked, panels can bind and pinch, creating weak spots that may become problem areas later on.
Butler is unique among roofing manufacturers in that they address this potential for error by taking the added step of pre-punching the seam attachment holes into the joists while the system is still in the factory. This results in a foolproof installation with zero guesswork. The installer simply lines up the preset holes to create a perfectly square panel installation. This guarantees full range of movement resulting in a roof designed for maximum longevity. Meanwhile, the clips used to attach the MR-24 to the structure are designed to allow for appropriate panel expansion and contraction through the use of self-centering tabs that break off during the initial movement of the system post-installation.
Staggered Splicing and Structurally Supported End Laps Round Out Butler's Exemplary MR-24 System

In addition to installing new standing seam metal roofs, we are often called upon to maintain and repair existing systems (installed by others!) that are experiencing leak failures. Typically, these leaks occur where two panels join at a point referred to as an end lap. Butler addresses these potential problem areas in the following ways:
Staggered Splicing – Due to shipping constraints that limit panel length, when a roof slope is greater than 60', there is an inevitable need to splice panels together end-to-end. Because each splice point represents a potential area of vulnerability, panel layout is crucial. Staggered splicing involves strategic panel arrangement where no neighboring panels end at the same point. Designing this way helps to lessen the potential for leaks and single-line weakness.
Support Panels – In addition to staggered splicing, end splices should always be located over a supporting purlin or joist. This dramatically reduces the potential for the end lap joint to weaken or fail due to snow loads or roof maintenance foot traffic.
MR-24's end splices are connected with a backup support plate featuring four threaded studs pointing upward to accept the pre-punched top and bottom roof panels, and the panel strap and drainage channel. This splicing method stands in sharp contrast to the standard (and short-sighted) method of using up to nine self-drilling fasteners pointing downward through both sheets and the backup plate, which more than doubles the number of potential leaks at each panel end lap point.
To-Date, Fleming Has Installed 70 Million+ Square Feet of Butler MR-24 Roofing

Recognizing the MR-24 system's outstanding quality, The Fleming Construction Group became early adopters soon after it was introduced to the market in 1969. Throughout the decades, the system has made good on its longevity promise, lasting many decades longer than its competitors. In fact, one of the original Fleming/Butler roofing collaborations installed in 1974, is finally being reroofed after more than 40 years.
This re-roof was initiated because of the slight natural degradation of the steel's galvalume coating, but even after 40+ years, it was a matter of surface rust spots appearing on the roof, not a matter of leaks. The roof was still as air tight as the day it was installed.
Compared to competing standing seam roofing systems, which typically last ten to twenty-five years at the maximum, Butler's MR-24 withstands the test of time, providing low maintenance and reliable asset protection for decades and beyond.
Roof Quality Dramatically Impacts Total Cost of Ownership – And We've Got Proof
Even though a roof, at the high end, represents about 5% in the total budget of a new construction project, ultimately, it is the most important part of the building to get right. Maintenance problems invariably trickle down, and when it comes to roofs – you get what you pay for.

Financially, Butler MR-24 is an Investment with High ROI
A major global retail chain (and long-time Fleming client) who trusts the Butler MR-24 system for all of its distribution centers, commissioned a study to calculate the maintenance costs associated with its 50 million+ square feet of building space. It found that costs associated with maintenance equated to about .0002 cents per square foot. To put this in perspective, the average cost of maintaining an industrial building roof is about 8 cents per square foot.
Strategically, Butler MR-24 Provides Critical Asset Protection
Another Fleming client that relies on Butler MR-24 is a global paper products company whose production facilities and warehouses store massive 10,000 lb. rolls of paper that are eventually turned into much of the tissue and toilet paper we use in the United States. As you can imagine, roof leaks in that environment would be more than just an inconvenience – they would be disastrous. The same can be said for technology manufacturers, sensitive equipment distributors, and any kind of food production.
The Roof is the Most Valuable Asset in a Building
For a building owner spending upwards of $50 million or more on a new asset, the roof is the absolute last place to cut corners. When it comes to maintenance, you either pay now or you pay later. Many roofing manufacturers attempt to downplay the risks associated with low quality by issuing "no dollar amount (NDL) warranties." Unfortunately, upon examination, these warranties are so filled with loopholes and fine print designed to protect the manufacturer from liability, they are hardly worth the paper on which they are printed.
At the end of the day, an investment as large as a new industrial facility requires a roof that provides protection and reliability. Butler MR-24 is a front-end investment that has a huge upside in terms of both maintenance savings and the reroofing that would be required in ten to twenty years with other lower quality options.
We Have Safely Assembled 70 Million+ Square Feet of Butler Manufacturing MR-24.
Get More Info About What Makes Us Standing Seam Metal Roofing Experts. Download the One Sheet Here:
MR-24 Experts